The Adventure Begins
Starting day care is a huge step for each child and parent. Our aim at Blooming Wild Child Care is to make this journey one that is safe, exciting, nurturing and fun. Each child is important and unique so we tailor our approach to support each child as an individual. We adopt the 3 i's doctrine to deliver these aims.
INTENT - IMPLEMENTATION - IMPACT
Parent / Guardian Testimonials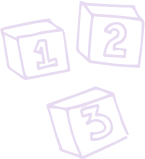 Dedicated and Professional
Michelle is the driving force behind Blooming Wild. With over 26 years of experience in childcare, she has demonstrated time and again a dedication to child welfare and a talent for seeing the potential is every child she helps.
Having worked in SEN, Nursery school and provided acclaimed child minding over many years her experience is both wide-ranging, relevant and effective.
Blooming Wild 
85 Hitchin Rd
Luton
LU2 0EL
Zoe Burrows
Nursery Manager
Hollie Nicholls
Nursery Assistant
Announcing soon
Nursery assistant
Blooming Wild Child Care prices are
competitive
hourly
transparent
from the beginning.
Apply for Admission
Contact us to start the conversation and write the next chapter in your child's story.